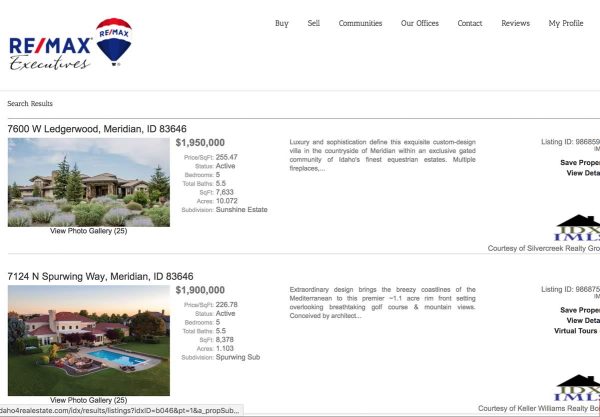 Meridian homes on acreage are a highly desirable category of real estate in the Treasure Valley. One of the reasons is that Meridian is very centrally located. If you buy a home in Meridian, Idaho, you'll have easy accessibility to jobs in Boise just to the east, or Canyon County destinations like Nampa and Caldwell to the west. There is plenty of shopping nearby, as well, with major retail chains and restaurants arriving every year.
Idahoans love their outdoor recreation, and Meridian also gives you easy access to that in areas like Idaho City, Lucky Peak, and Bogus Basin. These are all 30 to 60 minutes away. You'll find hiking nearby in the summer, skiing, snowboarding, and cross country skiiing a short drive away in the winter, and fishing right here in Meridian at one of Meridian's stocked lakes.
Meridian also provides easy road trip access to resort areas. Garden Valley is a favorite for many families, with cabins for rent year round, golf, and beautiful mountain scenery. McCall is not far away to the north, and Cascade is a little further with its world famous ice sculptures in the winter . You'll find mountain and lakefront cabins for rent, beautiful campgrounds, and more, all just a short drive away.
Probably the best benefit of living in Meridian is that Meridian homes tend to hold their values really well. Historically, Meridian real estate prices have had less fluctuation than other locations, and appreciate a bit better than most other cities in Ada County or Canyon County.
But what if you want to live on acreage, with a little more space between you and your neighbor than the standard .17 acre lot affords? You don't have to drive out to rural areas for that. Meridian's diverse home market has acreage for sale that could give your family the space you need to enjoy life with all the amenities you need.
At the time of this writing, Meridian boasts over 455 single family homes in the Intermountain MLS, providing a large pool of properties for the house hunter in the Treasure Valley. Of those—and this may be surprising to some—there are over 20 homes on the market sitting on over an acre. That's right. You can have space for the kids, and in some cases, horses, with all the convenience of living near Costco, Wal-Mart, or Fred Meyer.
Because Meridian homes on acreage have historically appreciated well, you'll generally have to pay a little more per square foot for that reason than in some other locales. Nevertheless, there are great values to be found, and the best way to find them is to try different searches to narrow your property search down to exactly what you're looking for.
You can search for Meridian equestrian properties, different sized lots, and more using our advanced Idaho real estate search features. Narrow down your search to your specific interests to find undiscovered gems while searching for your next Meridian home. Our real estate search tools provide an easy way to get started. Don't forget to create an account to save your search so you can come back to it later.